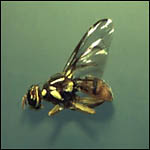 The quarantine of pests in the Pasadena/San Marino area (Los Angeles County) is expanded according to a press release issued August 10.
The California Department of Food and Agriculture said 89 miles from Figueroa St. on the west, Interstate 10 to the south and east of The Big Santa Anita Wash is now included in the quarantine. (Click here for a map.)
This expansion is to protect the area from The Oriental Fruit Fly that is native to Southern Asia. Though the quarantine is for farms in the area, residents are also asked to avoid moving host plants and materials from their homes.
"All of us must work together to carry out an effective program," CDFA Secretary A.G. Kawamura stated. "We urge home gardeners to comply with these measures by consuming homegrown produce at home and not moving it from their property. This will protect their fellow gardeners and help ensure that the infestation will not spread to nearby areas where it could affect California's food supply."
The areas will be treated with "male attractant" that mixes pesticide eight to ten feet off the ground on light poles and street trees. This pesticide attracts male flies who die after consuming the chemicals. Officials expect a positive outcome.
Contact Farm Plus today for information on low-rate loans to cover production costs such as pest control. Call 866-929-5585 or visit our website for more information.