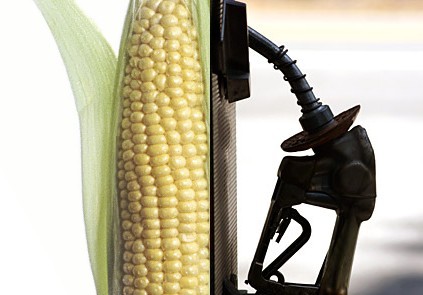 Photo Courtesy of PR Watch
The United States Department of Agriculture reports that U.S. corn farmers are looking at record corn crop and yield per acre. The current record, set in 2009 is expected to be beat by two percent.
Officials project farmers will harvest 13.37 billion bushels this year. This means 165 bushels per acre which is up from 164.7 bushels per acre in 2009.
The Renewable Fuel Association's Vice President of Research Geoff Cooper notes this proves that American producers can meet the growing corn demand for food, fuel and animal feed.
"This will be the third 13 billion bushel crop on record and it's worth noting that this year's crop will be produced on nearly 6 million fewer acres than the first 13 billion bushel crop just three years ago." Cooper added that technology advancement and practices will help farmers to grow even more bushels on fewer acres.
The 2010 projected crop is twice as large as the crop grown in 1980. It's expected that 4.7 billion bushels of corn will be used to produce ethanol resulting in 13 billion gallons of ethanol.
As the importance of renewable energy is stressed, ethanol production is a rapid growing industry. If you are in need for a farm loan to purchase land or cover production cost, contact Farm Plus today. Low-rate loans are available today. Call 866-929-5585 to speak with a representative or visit our website for more information.