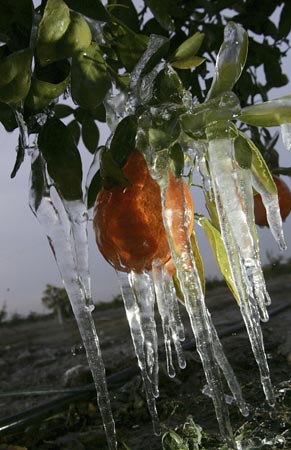 An unusual freezing hit the southern United States in the past week put many farmers and producers on the edge of their seats. Luckily, the result was less damaging than expected.
Compared to the disasters in 2007, Arkansas faired better in Tuesday's freezing. Fruit farmers in Northwest Arkansas were fearful when they awoke Wednesday morning after a night of 26 degree weather. Ultimately they were lucky, 23 degrees was the forecast, and this would have destroyed the entire fruit crop.
The freezing adds on to the damage done by an ice storm in January that devastated the crops. Fortunately, grape crops survived.
"We have one vineyard that was hit pretty hard primarily because it is younger vines, but the older established vineyards held up fine. Overall I think we weathered this cold snap as good as we could hope this late in the season," producer Heather Ranalli told The Morning News.
In 2007 Arkansas saw over $5 million in damages to the state's grape, peach, berry and apple crops.
Are you looking for a low rate farm loan? Look no further! Farm Plus is here to help you get the farm loan you need. Visit online or call 866-929-5585 for more information regarding farm loans.